Family fights to get pit bull service dog back | News
JACKSONVILLE, Ark. (KTHV) -- One Jacksonville family is fighting to get its pit bull service dog, Edith, back.
Jacksonville authorities took it away in August because of laws against the breed.
"Every day is a challenge with Ahmeha," said mother Amanda Simmons of her daughter with Asperger's Syndrome. "She just wants her best friend back."
Four months ago, the city took Edith. It's left Amanda's daughter Ahmeha lost.
"I just really miss her and love her, and without her, I'm just lonely. I have nobody to talk to and nobody to hang out with," Ahmeha said.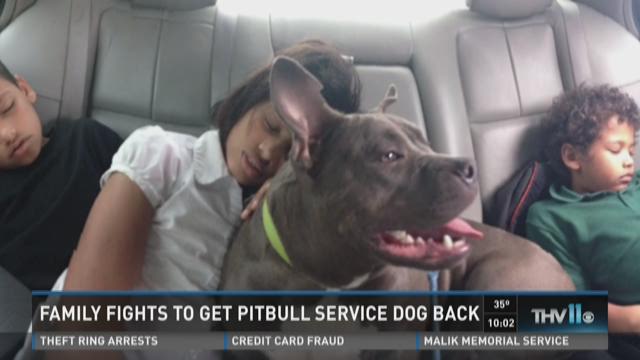 "It's hard," added Amanda. "We were talking about putting up her stocking for Christmas, and she's not here."
The family has tried fighting the city with the help of fair housing, but haven't gotten very far. So, on Tuesday, Amanda started a petition.
"We just want her home, and we want to make it where this doesn't happen to another family," Simmons said.
In just three days, the petition has gathered more than 108,000 signatures.
"It means a lot," she continued.
Edith's fate is unknown as the Simmons said she isn't in the city's care, adding they've been refused a request to where she was sent. They just hope public pressure and persistence reunites their full family once more.
The family has a court date on January 11 to try and get Edith back.