Jacksonville reveals new high school design | News
JACKSONVILLE, Ark. (KTHV) -- The Jacksonville community got its first glimpses into its new high school on Tuesday night.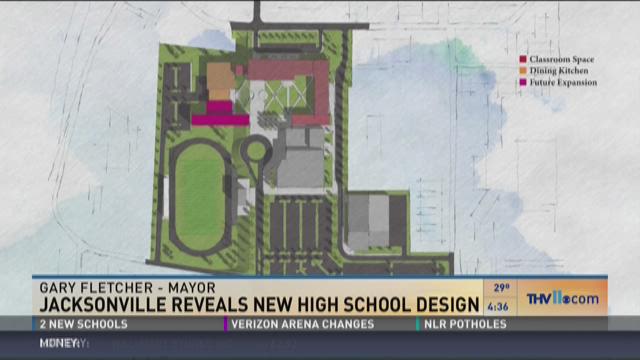 More than 100 people in Jacksonville gathered to hear about the design layout and how the city hopes to fund it.
The city was granted its own school district last year, something it's been fighting towards for more than 30 years.
To pay for it the city is looking to for a millage increase of $152 per year per resident for every $100,000 in home value.
"I was clapping along, I wasn't singing," joked Suzanne Evans, speaking about the motivational nature of the meeting. "I would hate to scare somebody like that."
The city put together music and song to get the crowd invested in what was going on, starting millage chants throughout the city's community center.
"You know 95 percent of us said we want this. Now it's time for us to put our money where our mouth is," added Jacksonville resident Jody Urquhart.
The idea for the plan is to take the old middle school, which has been shut down for several years along I-67/167 and flatten it. They hope to build eight separate buildings on the several-acre plot of land, turning the high school into a campus located right in the middle of town.
"You're not going to have a new school district without any money. You know you got to pay to have the new school district," said Evans.
"The property is conducive for the total layout of the school and where the buildings will all fit together. And that in itself is very exciting," added mayor Gary Fletcher.
The eight buildings are still in a design phase that will see plenty of tweaking in the months to come, helping to usher out the old with the new.
"It's all about the kids and if we don't do this for our kids then we have nothing else to fight for," Urquhart said.
The official vote for the millage will be February 9.